Sandalwood Seals

Sandalwood seals can carved up to 4 Asian characters in Chinese, Japanese, Korean or English letters.(Not counting as 4 English words). Smaller size seals shape is rectangle shape. (Far right pic). Larger size seal is with a handle (shown in the far left two image).
Prior Orders Imprint Examples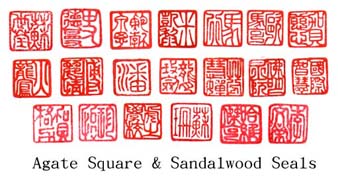 Remember these orders are individually hand carved oversea and may take several weeks to arrive.
Place an order via Order Form
NOTE: Due to some e-mails may have strong spam filer, if you have not received a reply from us within 3-4 days. Please try emailing us again, and if possible, give us an alternate email address to contact you.Thank you! Contact Us