Custom Calligraphy (via Digital Files or Handbrushed on Traditional Rice Papers)
--------------------------------------------
Custom Stamps and Seals (Via Machine / Hand Carved)
--------------------------------------------
Custom Asian Theme Graphic Design (Design/Printing )
--------------------------------------------
Commercial Use Designs (Web, Magazine, Display Booth, Newspaper, Ads and Promotions)
--------------------------------------------
Decorations Scrolls & Calligraphy Supply
--------------------------------------------
Other Services & Specials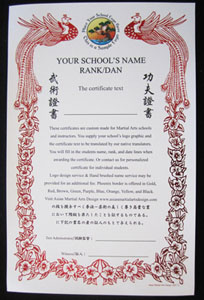 Custom Martial Arts Certificates
These award certificates are custom made for your Dojo school or other classes. You supply the text to be translated and the logo (logo design services may be provided for an additional fee). All the layout is custom made, therefore we can arrange it any way you want. You may simply fill in the students name, rank, and date lines when awarding the certificates. The rank certificates may be printed in the following languages Chinese/Japanese/Korean/English. For Standard Certificates, select the layout preferred from the samples and paper/borders shown on the page.
Pricing
Standard Certificates

8.5 x 11 inches

Gold/Red Foil Phoenix

11 x 17 inches

Initial layout/translation setup fee ( $20.00)

No set up fee

5 Certificates

N/A

$75 ($15 each)

10 Certificates

$65 (comes with 10 certificates folders)

$95 ($9.5 each)

20 Certificates

$85 (w/ 20 certificates folders)

$140 ($7 each)

30 Certificates

$95 (w/ 30 certificates folders)

$180 ($6 each)

50 Certificates

$135 (w/ 50 certificates folders)

$250 ($5 each)

100 Certificates

$215 (w/ 100 certificates folders)

$350 ($3.5 each)

150 Certificates

$450 (w/ 150 certificates folders)

$450 ($3 each)

150+ Certificates

Quote

Personalized Rank Certificates- additional charges (Includes student's name, rank date printed.) add $5 per certificate if only printing student's name in English, add $8 per certificate if printing student's name in Bilingual
Hand Brushed Certificates
(In Chinese, Japanese or Korean)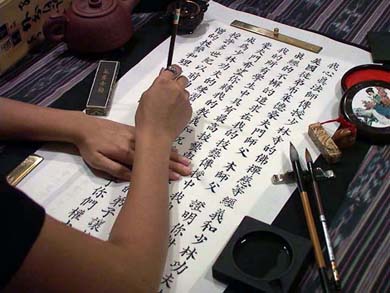 Hand brushed on 13"x 26" imported rice paper. They are ready for framing and include spaces for the instructor/school seal. Prices vary depending on the number of characters and complexity of layout but generally range from$75 to $95 USD (Included translation fee.). May be offered as an option to the student in addition to the above certificates. Contact us with the English text to be translated and names of student and instructor (we will provide Chinese/Japanese/Korean name translation). Five layout examples below.
Specificalized in Asian theme graphic design and needs for Martial Arts schools, such as custom certificates, patches, traditional scrolls, logo design, website design, flyers, Brochures, folders, stationery and other Marketing Material Design products.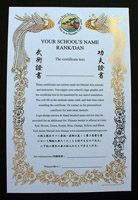 Click on the image to see enlarged pictures.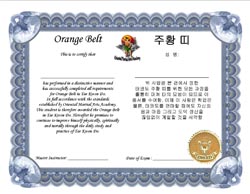 Standard Certificate Paper Choices
The certificate size is 8 1/2" x 11".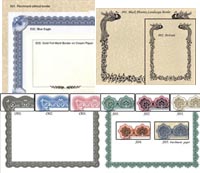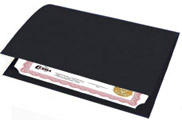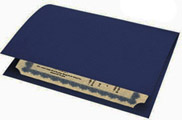 Standard Certificate Layouts