Custom Hand Carved Seals
v

The seals can be custom hand carved in Chinese, Japanese, Korean, English or simple line art. These traditional seals are especially carved for calligraphers, artist and martial art instructors to sign their masterpieces and stamp on the certificates. Some may carve an auspicious word for stamping on their arts or greeting cards. Each seal is unique and artistic designed. Made of high quality stone, black ox horn or exotic woods, these chops will last a lifetime.
Seals are carved in ancient style carving scripts. You may see the modern characters (typed) and the ancient carving script below.
| | Ox Horn Seals- Up to 12 Asian characters, with or without border. |
| --- | --- |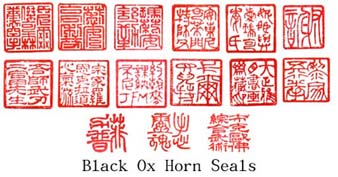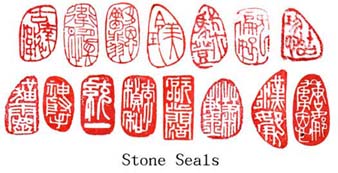 Remember these orders are individually hand carved oversea and may take several weeks to arrive.
Custom Carved Seal Order Form
NOTE: Due to some e-mails may have strong spam filer, if you have not received a reply from us within 3-4 days. Please try emailing us again, and if possible, give us an alternate email address to contact you.Thank you! Contact Us