Custom Calligraphy (via Digital Files or Handbrushed on Traditional Rice Papers)
--------------------------------------------
Custom Stamps and Seals (Via Machine / Hand Carved)
--------------------------------------------
Custom Asian Theme Graphic Design (Design/Printing )
--------------------------------------------
Commercial Use Designs (Web, Magazine, Display Booth, Newspaper, Ads and Promotions)
--------------------------------------------
Decorations Scrolls & Calligraphy Supply
--------------------------------------------
Other Services & Specials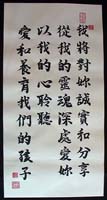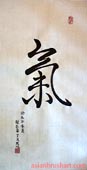 Chinese Hand Brushed Calligraphy
| | |
| --- | --- |
| | |
| | |
Custom hand brushed Chinese calligraphy with your name, favorite phrases or poem for personal wall hangings gifts or decoration for the office and studios. Hand brushed orders may range in size from as small as 4x6 to as large as 13 x26 inches. Larger sizes may be done as special order. Each order is custom so prices may vary based on size & number of words. Hui-Jung uses both Kai Shu and Xing Shu script that she has learned under famous Master Yu Tian-Hsu in Taiwan ROC. Kai Shu was developed during the Han dynasty and is almost 2000 years old. It is very legible and often used in printing. She also uses the Xing Shu script, and a style between Kai Shu and Xing Shu, which is named Xing Kai. Kai Shu will be used as defalt style. Xing Shu style will need customers request. For commerical design, see Graphic Design. If you would like to get a digital Chinese characters, please see Digital Chinese Calligraphy.
See more examples of hand brushed work at our webgallery.
Chinese Calligraphy Hand Brushed Quote



4" x 6" 5" x 7"

8" x 10" 9" x 12"

10" x 13" 11" x 14"

13" x 26"

Phrase Examples

Single name/word

John or Perseverance

First & last name

John Smith or Thank you

4 words phrase

John Mark Smith or Never give up

8 words phrase

Congratulation on achieving your 1st degree black belt!

9 words & above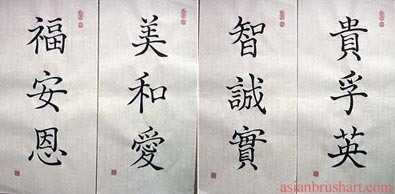 Kai Shu style-
4 Piece Set- on four 13 1/2" x 26 1/2" rice papers
Chinese Hand Brushed Calligraphy Order Form
We usually reply in 2 days, if you have not received a reply from us, please check your junkmail folder. You may also e-mail us directly at: order@AsianBrushArt.com Thank you!

If you would like to have Chinese calligraphy wall hanging matted with classic cloth backing, please visit Traditional Scrolls.