Chinese Hand Brushed Calligraphy
| | |
| --- | --- |
| | |
| | |
Custom hand brushed Chinese calligraphy with your name, favorite phrases or poem for personal wall hangings gifts or decoration for the office and studios. Hand brushed orders may range in size from as small as 4 x 6 to as large as 13 x 26 inches. Larger sizes may be done as special order. Each order is custom so prices may vary based on size & number of words. Hui-Jung uses both Kai Shu and Xing Shu script that she has learned under famous Master Yu Tian-Hsu in Taiwan ROC. Kai Shu was developed during the Han dynasty and is almost 2000 years old. It is very legible and often used in printing. She also uses the Xing Shu script, and a style cross between Kai Shu and Xing Shu styles, which is named Xing Kai. If you have a preference on the style to be used for your order, please indicate it in the order form. Otherwise, Otherwise, the artist will decide freely on the calligraphy style for your order.
For commerical design, see Graphic Design If you would like to get a digital Chinese characters, please see Digital Chinese Calligraphy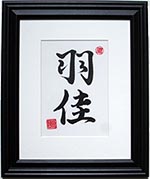 (Picture frame not included)
See more examples of hand brushed work at our Gallery
Chinese Calligraphy Hand Brushed Quote
Below price + $Shipping (We ship internationally from USA)



4" x 6" 5" x 7"

8" x 10" 9" x 12"

10" x 13" 11" x 14"

13" x 26"

Phrase Examples

Single name/word

John or Perseverance

First & last name

John Smith or Thank you

4 words phrase

John Mark Smith or Never give up

8 words phrase

Congratulation on achieving your 1st degree black belt!

9 words & above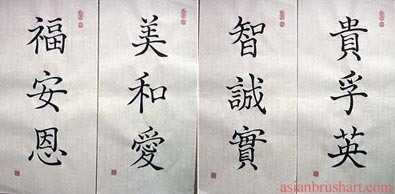 Kai Shu style-
4 Piece Set- on four 13 1/2" x 26 1/2" rice papers
----------------------------------------
To Order or Get a Quote
Email us via order@AsianBrushArt.com
Please Provide The Following:
Your Name:

Billing/Shipping Address:

Tel:

Calligraphy Paper Size:

Text to be Brushed in Chinese: Word/Name/Phrase

English Text: This is additional fee to the above pricing chart. Fee based on the length of the text and paper size

Layout: Vertical or Horizontal
We will contact within 48 business hours. If you have not received a reply from us, please double check your spam folder. Please also try emailing us again, if possible, give us an alternate email address to contact you. Thank you!